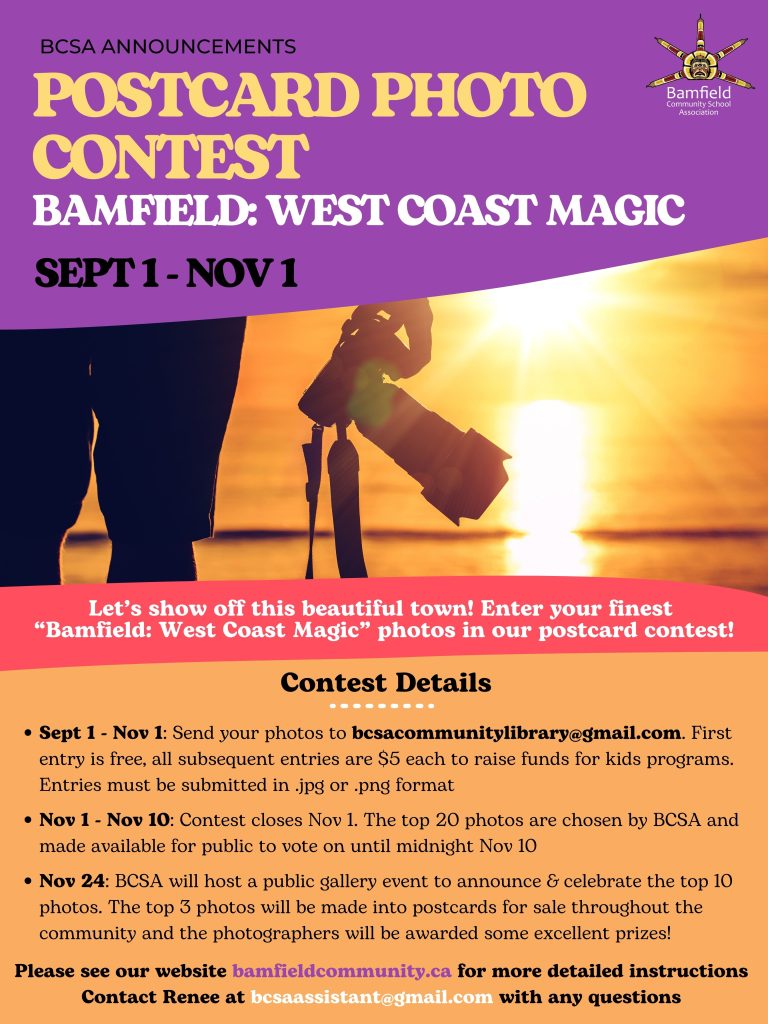 BCSA Postcard Photo Contest
Let's show off this beautiful town! Enter your finest "Bamfield: West Coast Magic" photos in our postcard contest! The top 10 photos will be celebrated at a gallery event on November 24th. The top 3 winning photos will be made into Bamfield postcards, which will be available for sale at various locations in town, and these 3 photographers will also be awarded with exciting prizes!

All proceeds from this contest will support our children's programming initiatives, allowing us to offer kids programs for free.
Timeline
Sept 1 – Nov 1: Send your photos to bcsacommunitylibrary@gmail.com. First entry is free, all subsequent entries are $5 each to raise funds for kids programs. Entries must be submitted in .jpg or .png format
Nov 1 – Nov 10: Contest closes Nov 1. The top 20 photos are chosen by BCSA and made available for public to vote on until midnight Nov 10
Nov 24: BCSA will host a public gallery event to announce & celebrate the top 10 photos. The top 3 photos will be made into postcards for sale throughout the community and the photographers will be awarded some excellent prizes! Contact Renee at bcsaassistant@gmail.com with any questions
Submitting Your Photos
1. Send an email to bcsacommunitylibrary@gmail.com with the image(s) attached in .png or .jpg format
2. In your email, please include: Your preferred name, a title for each of your photos, and tell us your preferred form of payment (e-transfer or cash)
3. BCSA staff will then contact you to discuss payment methods.
4. Cross your fingers and hope to win!
Contest Rules
First entry free; $5 entry fee per photo thereafter. Multiple submissions are welcome, as long as they adhere to formatting rules and the entry fee is paid for each photo.
Photos must be submitted digitally, by email to bcsacommunitylibrary@gmail.com in the .jpg or .png format. Unfortunately, submissions that do not adhere to these parameters will not be considered in the contest (note: any entry fees paid for these submissions will be refunded to the photographer). Please reach out if you are experiencing difficulty providing your photos in this way, we can help! Photos must be submitted with the photographer's name and preferred titles for each photo
In addition to letting BCSA use the winning images for postcards, photographers consent to their images be posted on the photo contest page on the BCSA website and on Facebook, to present to the community to vote on. These images will also be used to produce items such as postcards and will be available for resale at locations around town, for a limited run. Once the contest is over, photographers' names will be attached to their photos on the BCSA website. If you have any concerns about this arrangement, please reach out to Renée at bcsaassistant@gmail.com to discuss.
Payments may be made via e-transfer, or in cash. Cash payments must be arranged with BCSA staff.
Deadline for photo submission is midnight on November 1st, no exceptions.
All accepted photos will be submitted anonymously to a panel of judges (comprised of BCSA board members) who will vote on the 20 submissions that best encapsulate the theme of "Bamfield: West Coast Magic." These 20 photos will then be made available for the public to vote on; voting closes at midnight on November 10. The top 10 will be celebrated at a gallery event on November 24, with the top 3 winners announced there, and prizes awarded thereafter.