Opportunities to join the BCSA team are posted here as they arise.
Current Work Opportunities:
School Lunch Caterer – September 2023 – June 2024
We are once again looking for a committed and caring person to join our wonderful team at the Bamfield Community School as the School Lunch Caterer for the upcoming school year, September 2023 – June 2024!
This is a very rewarding role, feeding nutritious breakfasts and lunches to the students at our school to support their success and wellbeing. While we are very sad that our beloved Chef Charlene is moving on, we wish her all the best! She is hopeful of connecting with next year's Lunch Caterer to share her wisdom and provide training in June, so don't hesitate to get in touch with questions, or come see what it's like in the school kitchen!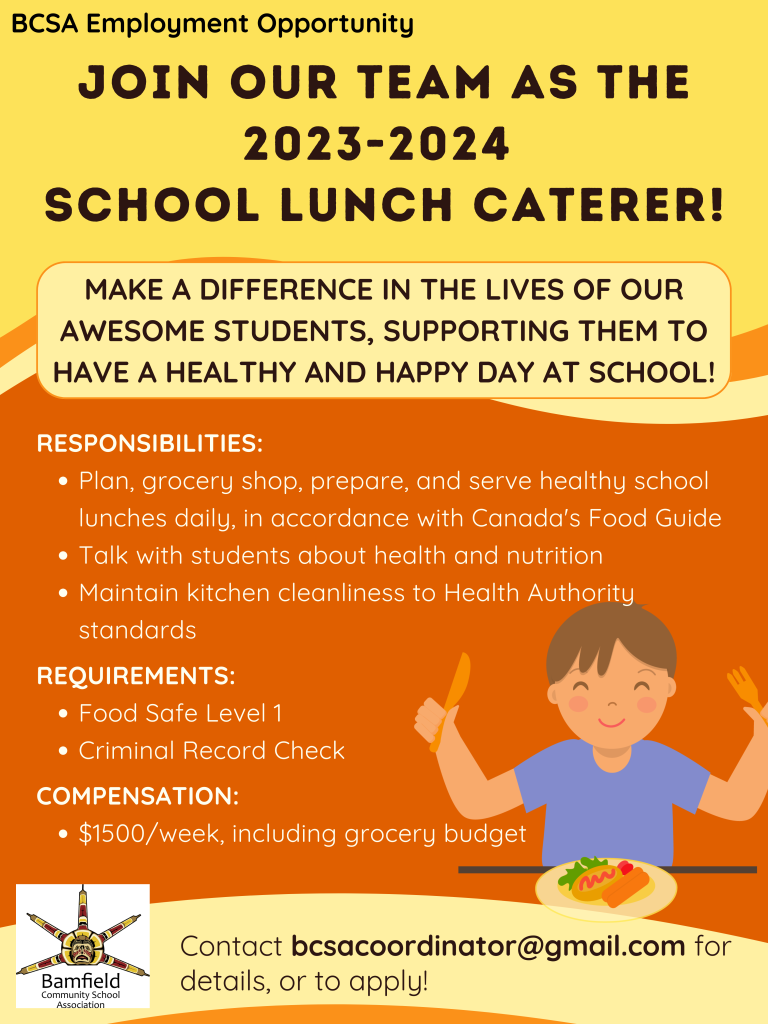 Past Work Opportunities:
BCSA Assistant Coordinator – Spring 2023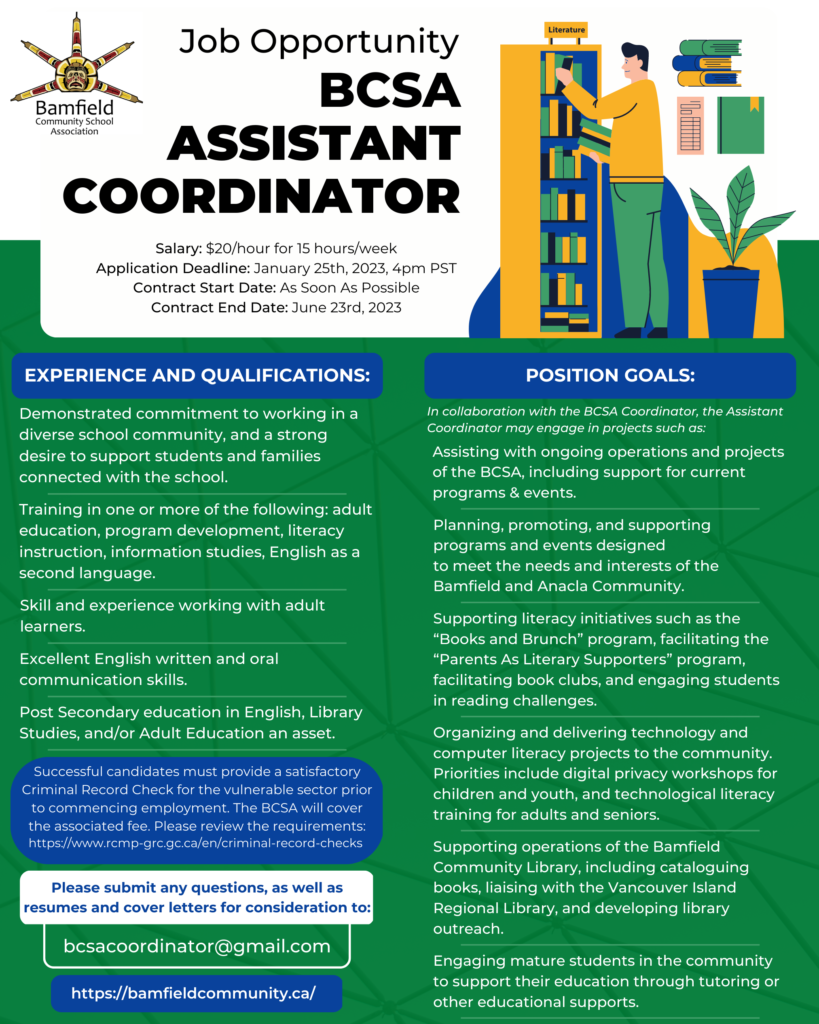 Summer Day Camp Leaders (2 Positions) Posting – Summer 2022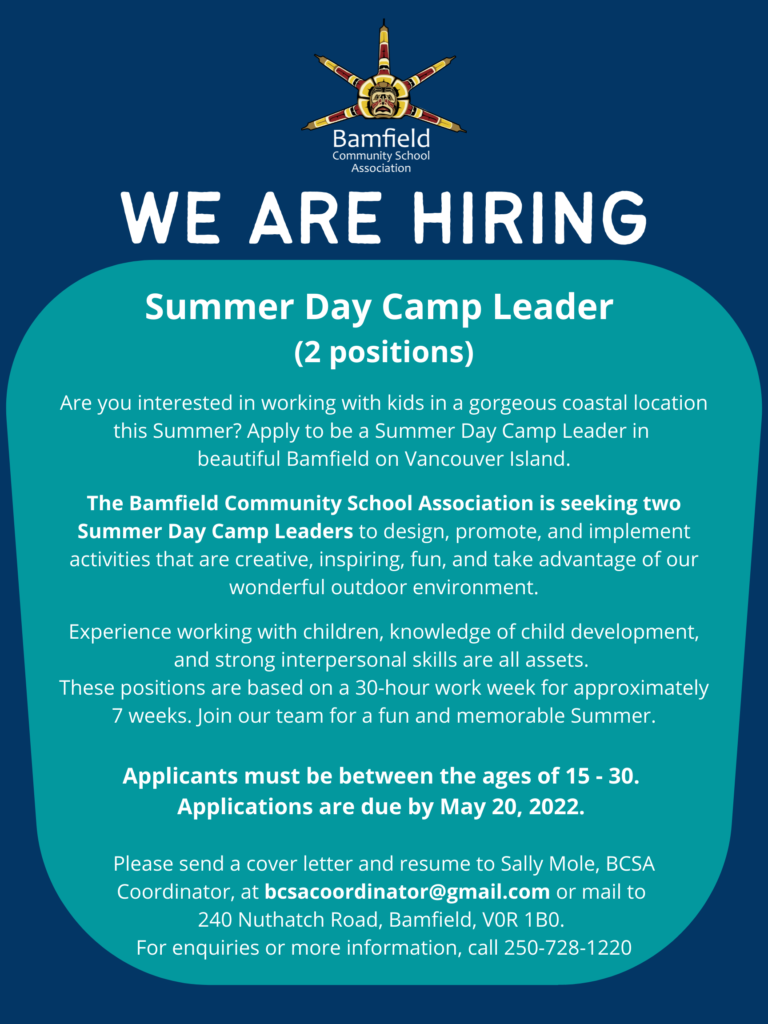 The BCSA is hiring for 2 Summer Day Camp Leader positions. Come join our team! Applications are due by May 20, 2022. Please contact us with any questions or for more details!
Multiple Employment Opportunities Posting – June 2021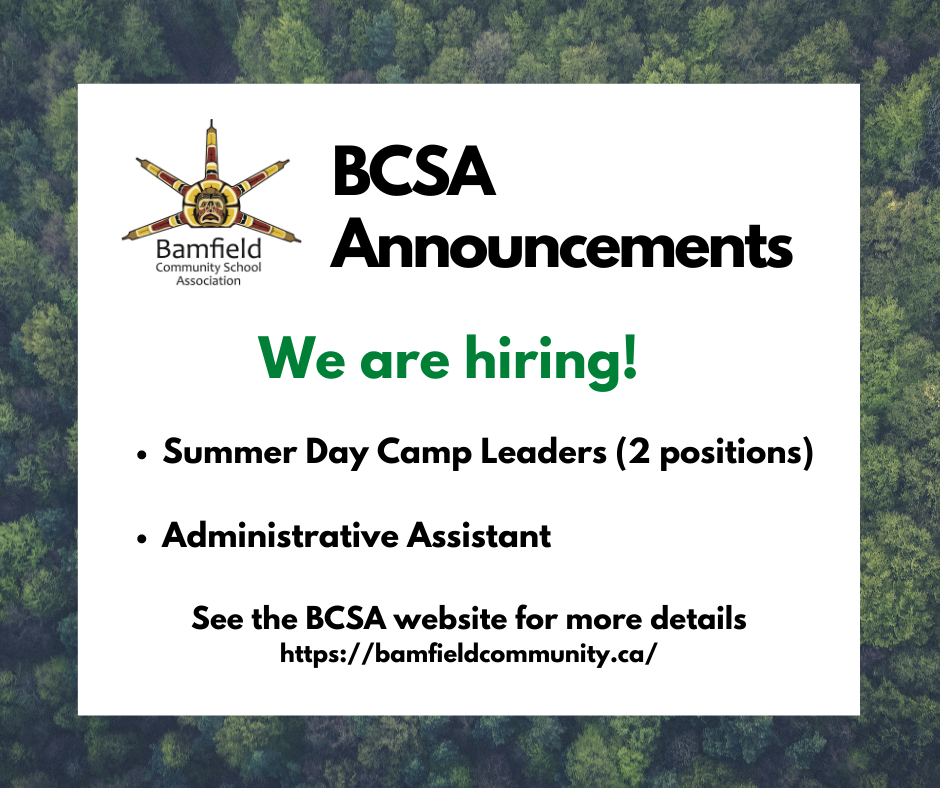 The BCSA is hiring!
Summer Day Camp Leaders (2 positions)
The Summer Day Camp leaders will be responsible for leading day camps for elementary aged children through the summer months.
Duties include creating, promoting, and implementing activities which take advantage of our wonderful outdoor environment and are creative, fun, and inspiring.
Experience working with children, knowledge of child development, and strong interpersonal skills is required.
The position is based on a 30 hour work week for approximately 9 weeks.
Administrative Assistant
This position entails various administrative duties primarily related to summer programming. Other various office duties will also be required.
This is a part-time position (20 hrs/week)
Applicants for all positions must be between the ages of 15 -30. Applications are due by May 31, 2021. Please send a cover letter and resume to Sally Mole, Community School Coordinator, at bcsacoordinator@gmail.com or mail to 240 Nuthatch Road, Bamfield, V0R 1B0. For any enquiries or more information, call 250-728-1220.
School Lunch Caterer Posting – October 2020
Do you have a passion for creating delicious healthy meals? Want to make a positive impact to the lives and learning of the Community School students? Apply to be our lunch time caterer by October 23rd!