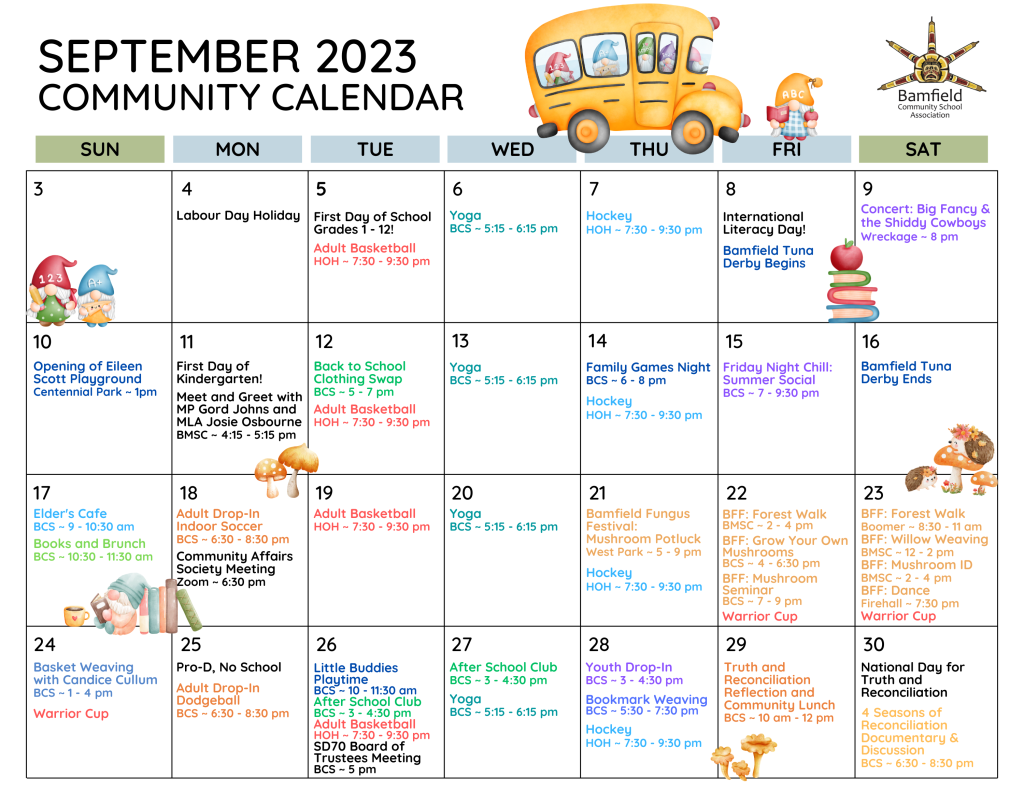 There are many opportunities to connect with community this September! Join the Bamfield Community School Association at the following events and programs:
Clean out and re-fill your closet at our Back to School Clothing Swap & Sale on Tuesday September 12!
Check out our board game selection, challenge your kids to a game of laser tag, and hang out with other families at our Family Games Night on Thursday September 14.
Teens are invited to the Summer Social, a glow party and hang out on Friday September 15!
Starting next week, we will be hosting a variety of fun games in our new Adult Drop-In Sports series, Monday nights from 6:30-8:30pm! Check our website or Facebook page for details.
We will be hosting a monthly drop-in social for seniors at the Community Library, starting Sunday September 17th. Join us at the Elder's Cafe to check out our new library books with coffee, tea, chats, and baked goods.
Books and Brunch is back! Families are invited to enjoy brunch and story time at the library on September 17th. Celebrate literacy month by checking out our suggested read-alouds, playing literacy games, and eating a stack of pancakes!
After School Club resumes at the end of September! Students will be sent home with a registration form.
Fungus Fest facilitator extraordinaire Candice Cullum will be sharing her Basket Weaving expertise in a special workshop on Sunday September 24!
Little Buddies Playtime resumes September 26th! Wee ones ages 3-5 and their guardians are invited to play at the school, make crafts, sing songs, and read stories!
Discover the art of creating intricate and personalized woven bookmarks at our introductory weaving workshop on September 28th, led by Aneri.
September 30th is the National Day for Truth and Reconciliation – a day of commemoration to honour all those impacted by Canada's Residential School System, grieve the losses endured under colonization, and take actions that bring our society closer to justice and reconciliation. The community are invited to join the students of the Community School for a reflective gathering and community barbeque on September 29th, and a documentary screening and discussion on September 30th.