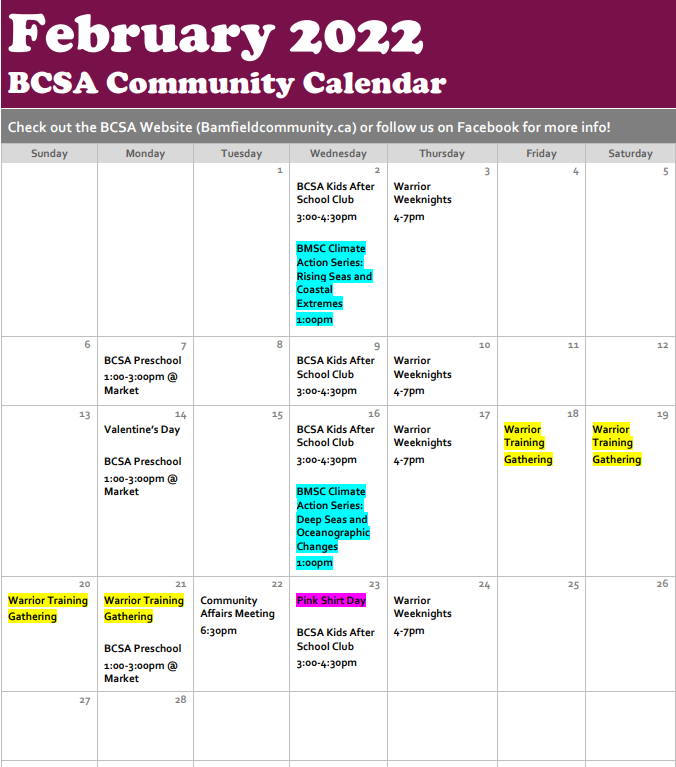 February already! Holy smokes! How are you doing Bamfield? 

This month sees the much-anticipated return of the BCSA Kids After School Club on Wednesdays. BCSA Preschool is back as well, although it is being temporarily run out of the comfortable back room of the Café on Mondays (thank you to Esther for accommodating us!). As before, the preschool will be led by the wonderful Jaslyn Haberl. Please contact us to register new little ones!  

The HFN Young Warriors are meeting on Thursdays and have planned to visit Cedar Coast field station on Vargas Island for a Weekend Training Gathering (contact Leonard Nookemis at hfnwarriors@gmail.com for more info). 

To keep residents safe, the School District has declared that the school will remain closed to the public until the newest Covid surges subside. Sadly, this means we have had to temporarily suspend our Hip-Hop Dance classes on Mondays, Friday Night Chill, and other cool events and classes we have been hoping to host. The community library is still functioning via the online catalogue (linked from our website).  

Our friends at BMSC have two scheduled seminars this month for the BMSC Climate Action Series – see their website for links to the episodes! 

The Community Affairs Meeting is scheduled for 6:30pm on Tuesday 22nd. Keep an eye on the corkboard for a link to the meeting. 

As always, please reach out if we can help with anything! And please keep an eye on our website (Bamfieldcommunity.ca) and our Facebook pages to stay updated. We will let you know when we can get back to business as usual at the school. 😊