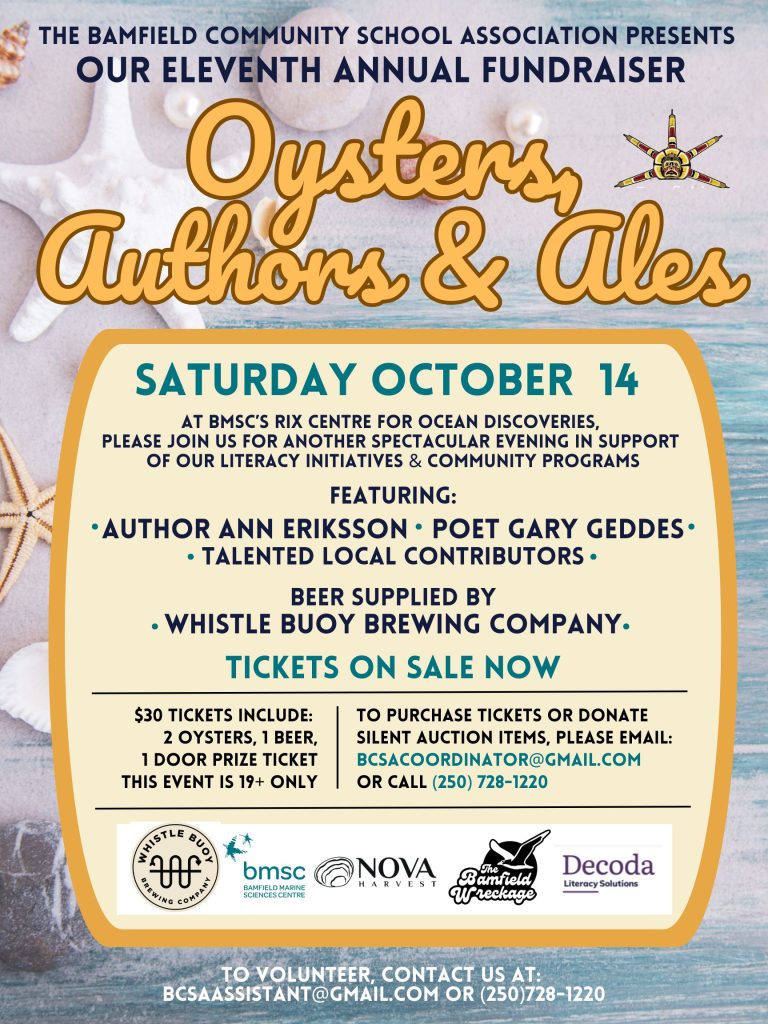 Hello friends! We are thrilled to announce this year's Oysters, Authors, & Ales line-up!
Ann Eriksson is the author of five adult novels and three non-fiction ecological literacy books for younger readers. Her most recent non-fiction book, the award-winning "Urgent Message from a Hot Planet: Navigating the Climate Crisis," was described by Green Party co-leader, Elizabeth May, as a "toolbox for hope."
Gary Geddes has written and edited more than 50 books of poetry, fiction, drama, non-fiction, criticism, translation, and anthologies and won a dozen national and international literary awards. His most recent book of poetry is (coincidentally!) titled "The Oysters I Bring to Banquets."
We will also welcome our first-time Ale suppliers, the Whistle Buoy Brewing Company from Victoria, who named their popular brewery after our very own whistle buoy in Trevor Channel!
As always, we will host this event alongside a silent auction, the proceeds of which will fund many of our literacy initiatives and community programming. We welcome any and all auction item donations to support our cause.
TO PURCHASE TICKETS or DONATE AUCTION ITEMS: Please contact Jaslyn at bcsacoordinator@gmail.com
TO VOLUNTEER FOR THE EVENT: Please contact Renee at bcsaassistant@gmail.com