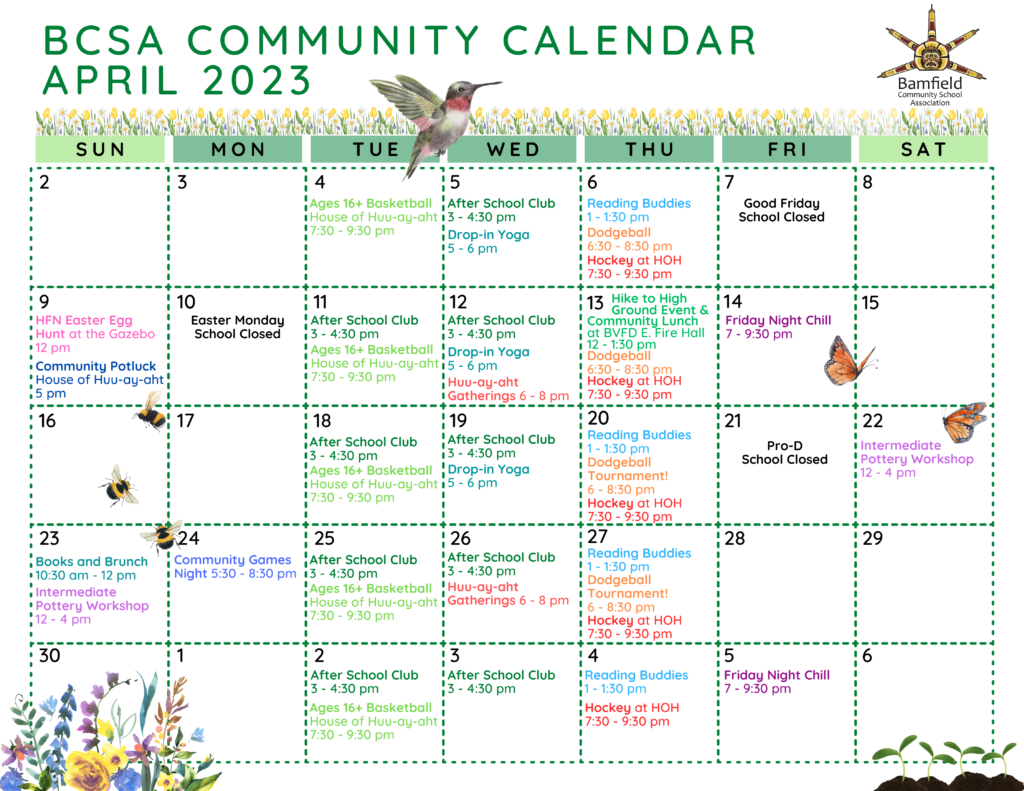 Spring has sprung, and we're excited for the community gatherings coming up this month!
The Huu-ay-aht Group of Businesses are hosting an Easter Egg hunt at the Pachena Gazebo at 12pm on Sunday April 9th!
Following an afternoon of egg hunting, you can gather with the community at the House of Huu-ay-aht for a delicious potluck! Sunday April 9th at 5pm.
Next Thursday April 13th, the Bamfield Community School Association is co-hosting a Hike to High Ground Tsunami Awareness Event and Community Lunch with the Bamfield Community Emergency Program at the Bamfield Volunteer Fire Department East side fire hall!
Youth 12+ are invited to the school for games, art, safety planning, and other cool activities at the Friday Night Chill on April 14th from 7-9:30pm.
The BCSA Dodgeball season wraps up with a fun-filled tournament and skills tests on April 20th and 27th from 6-8:30pm! Which team will win the trophy and the glory?!
Books and Brunch, on Sunday April 23rd from 10:30am-12pm, will bring an adorable opportunity to enjoy a family-friendly story time over a nutritious brunch.
Our next Community Games Night will be Monday April 24th from 5:30-8:30pm, come on down for a variety of board games, sports, and other activities!