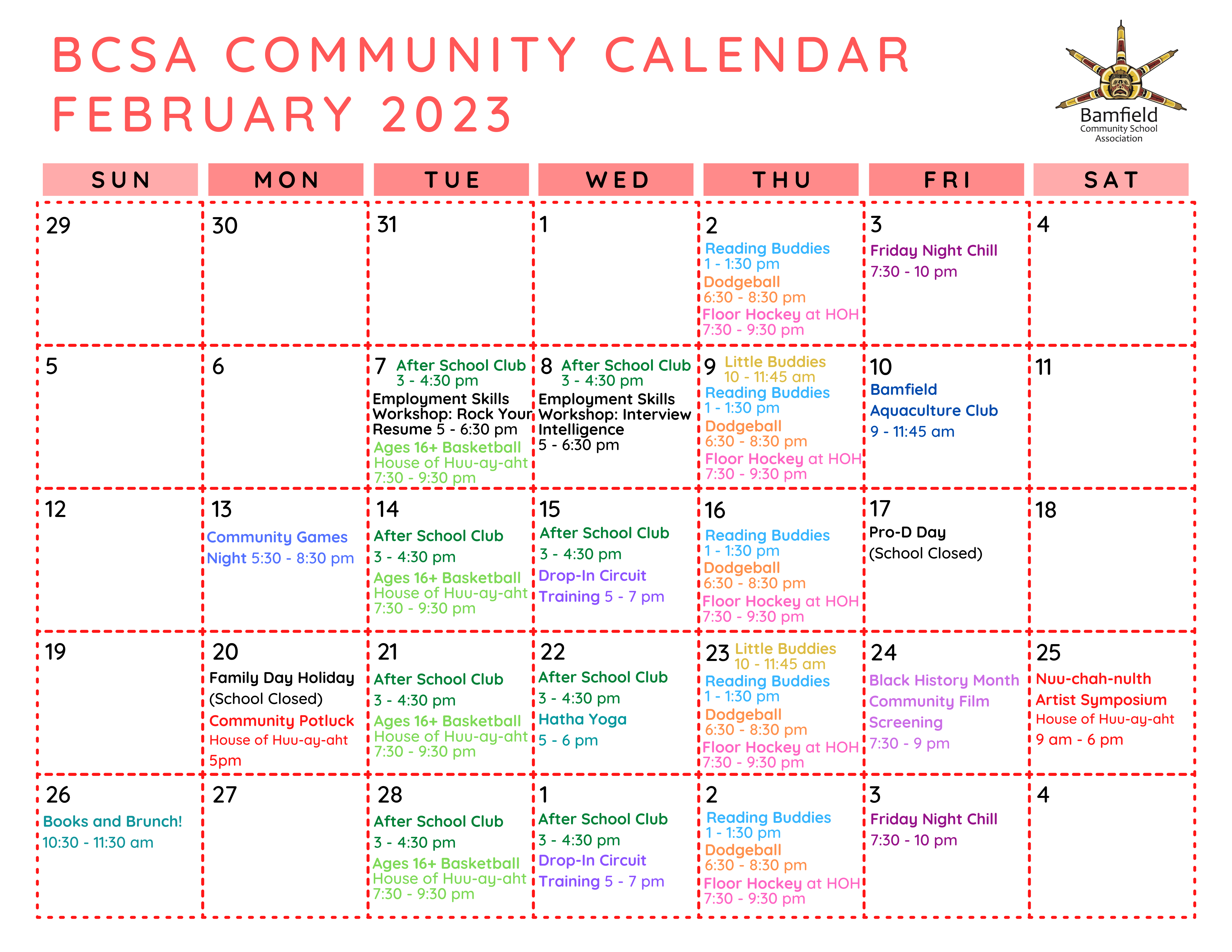 If the February drizzles are getting you down, join some of the social, recreational, and educational events and programs happening in the community this month!
Join our free Employment Skills Workshops with Work BC facilitators to learn how to write an awesome resume and interview with confidence. 5-6:30pm at the school Tuesday Feb.7 and Wednesday Feb.8; pizza will be provided!

The Bamfield Aquaculture Program are visiting the Nova Harvest hatchery to learn about oyster farming on Friday Feb.10 from 9-11:30am, contact us to join the field trip!

Join us for a rousing night of board games and a community dinner at the school on Monday Feb.13 between 5:30-8:30pm!

Little Buddies Playtime is planned for Thursday Feb.9 and Feb.23 – we hope to see wee ones and their guardians for songs and stories, games and crafts, and playtime with friends!

The next Anacla/Bamfield Community Potluck at the House of Huu-ay-aht is scheduled for Monday Feb.20! Come and share food and friendship with your neighbours!

Join us in celebrating Black History Month on Friday Feb.24 from 7:30-9pm. Enjoy a night of film screenings and resource sharing that will highlight histories and stories from some of Canada's diverse Black communities.

Huu-ay-aht First Nations are hosting a Nuu-chah-nulth Artist Symposium from 9am-6pm on Saturday Feb.25 at the House of Huu-ay-aht and the Anacla Government Office.

Join us for Books and Brunch – breakfast and storytime at the community library – on Sunday Feb.26 from 10:30-11:30!

If you want some fun and silly exercise, come to $5 drop-in Dodgeball on Thursday nights from 6:30-8:30pm!

/
Yoga and Circuit Training will continue their biweekly rotation on Wednesday nights through the winter – $5 drop in for chill and non-judgemental exercise and breathwork, no equipment or experience required.

Tuesday night basketball is now taking place at the House of Huu-ay-aht instead of the Bamfield Community School.