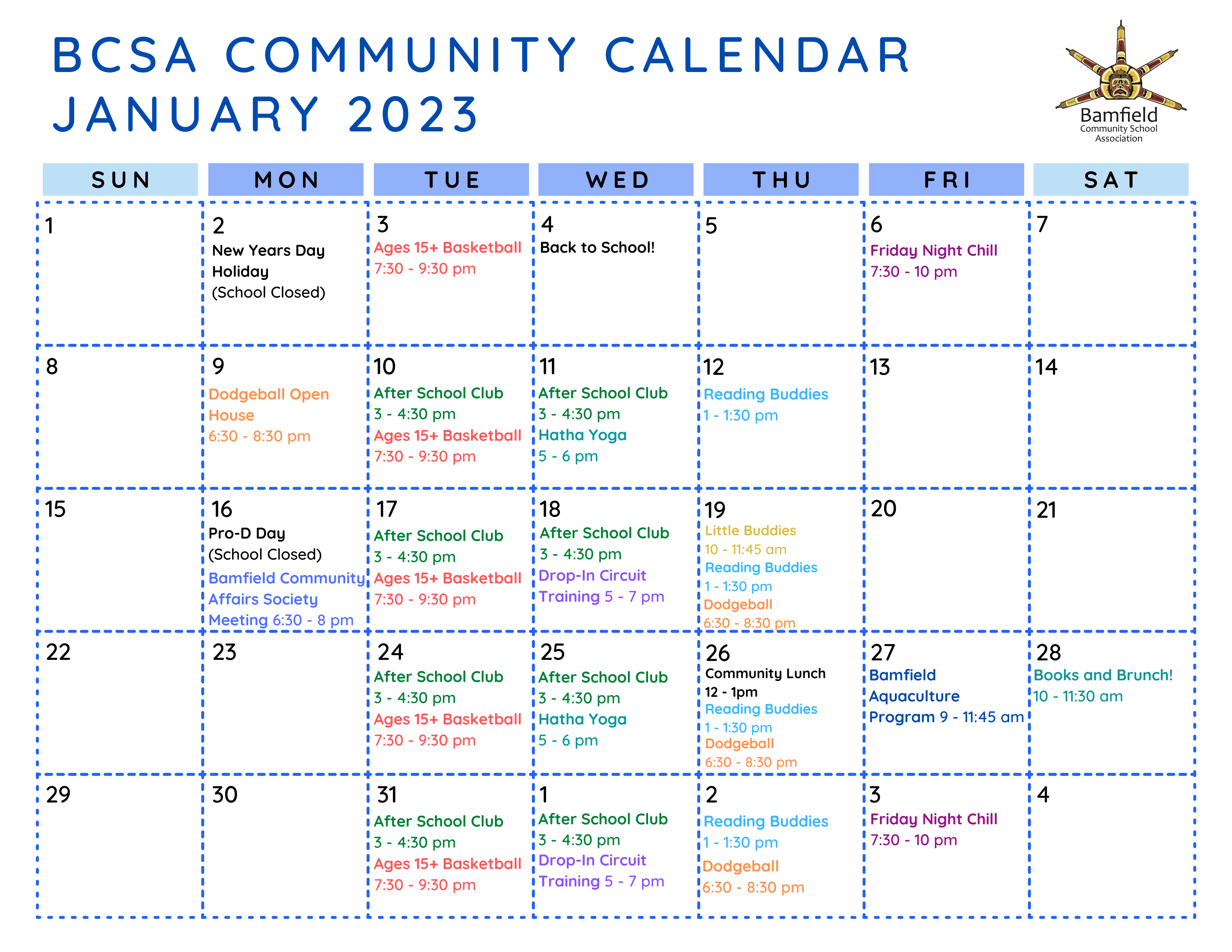 Happy new year! There's lots of exciting things happening at the Bamfield Community School Association this month, including some new programs and fun events!
🥳 The Friday Night Chill, a chance for youth 12+ to hang out, enjoy games and music, access safety planning and harm reduction supplies, and eat pizza, is on Jan. 6th!
🏀 Basketball is back every Tuesday night for ages 15+. All-ages basketball will recommence in March.
🧘‍♀️ Need a little re-centering after the holiday season craziness? Drop-in Yoga is every other Wednesday from 5-6pm.
🏋️‍♂️ Come get sweaty in a fun and supportive work out environment! Drop-in Circuit Training in the BCS gym will alternate with Yoga every other Wednesday from 5-7pm.
📖 Come share your love of reading with the kiddos at school every Thursday from 1-1:30pm.
🧸 Wee ones and their guardians are invited to Little Buddies Playtime on Thursday Jan. 19 – join us for stories, sing alongs, crafts and play!
🤾 DODGE! DIP! DUCK! DIVE! DODGE! Come try a night of free dodgeball on Monday Jan.9th, and get inspired to form a team for our Dodgeball League, running from Jan.19 – early May.
🍝 Mark your calendars for a Community Lunch on Thursday, Jan. 26th! Charlene is planning a delicious and nutritious meal for us to enjoy, and we encourage you to stay for Reading Buddies. $10/adult, proceeds will buy new books for the library!
🐟 Youth 12-30 are invited to join the Bamfield Aquaculture Program for fun field trips and interesting workshops to learn about local biology and ecology, food sovereignty, and potential job and economic opportunities in our community.
🥞 Come to the library for Books and Brunch on Jan. 28th! We will enjoy tasty waffles and a delightful storytime, and you can borrow some library books to enjoy at home!