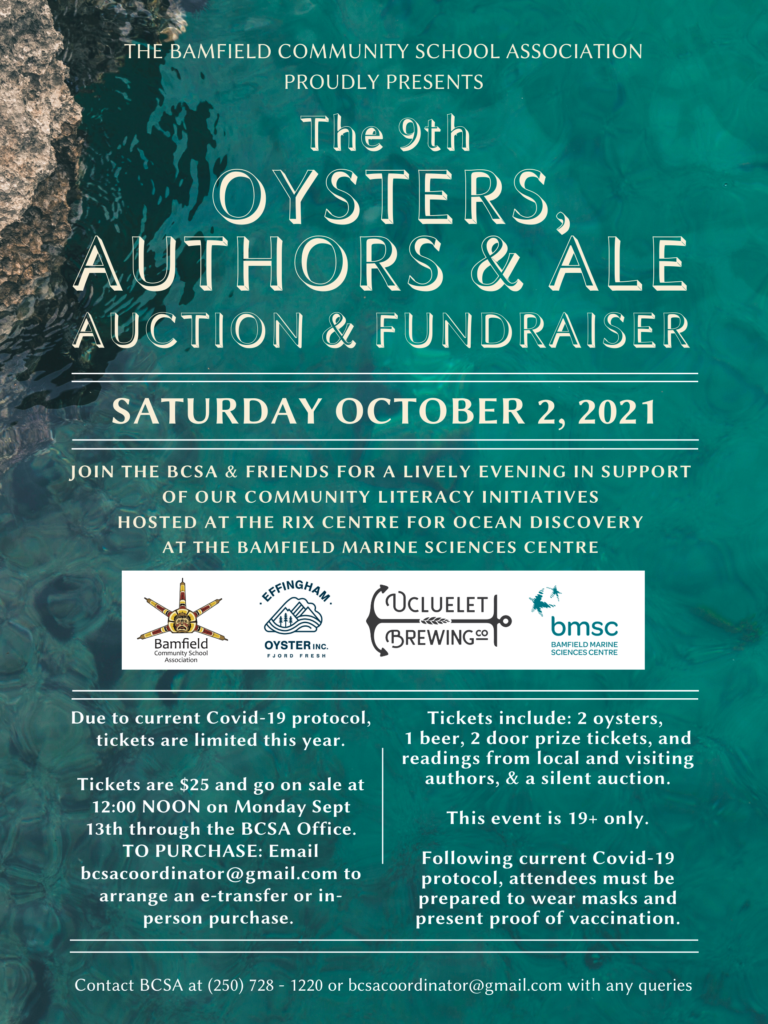 Oysters, Authors & Ale is back for the 9th time! Mark your calendars!
The BCSA is thrilled to announce the return of our annual fundraiser and we are delighted to invite you to be a part of this beloved event, on October 2nd, 2021.
What is the Oysters, Authors & Ale Auction (OAAA)?
This cozy, lively fundraising event gathers community members and guests to enjoy an evening showcase of novice and professional writers, live music, a terrific silent auction, and, of course, a sampling of west-coast oysters and locally crafted ales.
The OAAA is held in Autumn to raise awareness about adult literacy and to generate funds for future community literacy initiatives. The Bamfield Marine Sciences Centre have once again graciously donated their time and resources to support our cause, and the event will take place in their stunning Rix Centre for
Ocean Discoveries.
Tickets go on sale Monday, September 13th at 12:00 noon. Purchase tickets by emailing bcsacoordinator@gmail.com to arrange either and in-person purchase or an e-transfer. Please call us with any questions at 250-728-1220.
We would like to give a big thanks to our sponsors: Effingham Oyster Inc. and Ucluelet Brewing, and to our hosts at the Bamfield Marine Sciences Centre!!