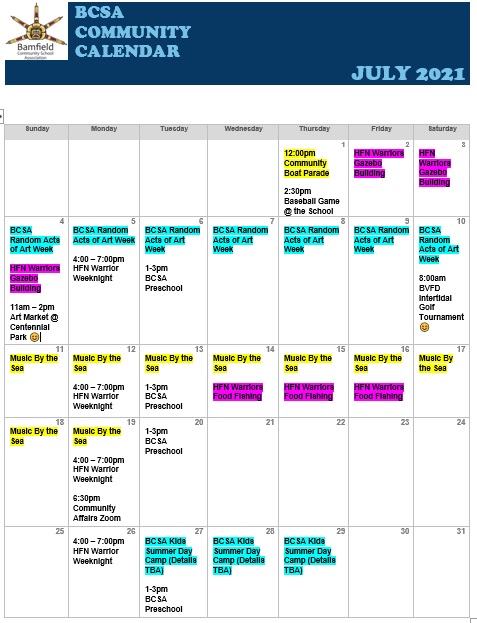 This Month in Bamfield:
Random Acts of Art Week: July 4 – July 10
Kick off the week making crafts with Sally at the Art Market at the Eileen Scott Centennial Park on Sunday, July 4th!
The BCSA is encouraging everyone to create art and hang it outside for the whole town to see. Anything can be art! Show us your creative flair!
Watch for our posters around town and keep an eye on our website and social media accounts for more information.
BCSA Kids' Summer Day Camp: July 27, 28, 29th
Details to be announced, please stand by or contact us for more information.
HFN Warrior Weeknights / Trail Building / Gazebo Building / Food Fishing
Dan Zayonc is leading this Huu-ay-aht First Nation youth group regularly on Monday evenings. This month, the group will also be spending several weekends learning about trail building a gazebo structure for the community and learning about fishing as a sustainable food source. Contact Dan at hfnwarriors@gmail.com for more information.
Preschool Program: Tuesdays at 1:00 – 3:00pm, on-going.
Sharlene Carpenter provides fun and engaging preschool programming for little ones. A healthy snack will is provided.
Pre-registration is required. Please call or email Sally to register your child.
Cost is $5.00 per child, per day.